Aldershaw Handmade Tiles
Aldershaw make 'Truly hand made roof and floor tiles' employing traditional methods and skills passed down by centuries of English tile makers.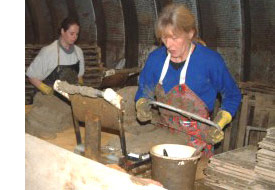 The Wadhurst clay is dug from our own pit in the heart of the Sussex Countryside and imparts that warmth of colour in subtle tones of Red and Orange that is so characteristic of the Weald of Kent and Sussex.
Aldershaw hand made tiles are actively sought by conservationists, architects and planners whenever the project calls for something special and genuine.
Ancient or modern, Aldershaw tiles will enhance any property and will aid the planning process in areas of outstanding natural beauty or other sensitive areas.
Nothing can be as natural or authentic for conservation restoration or repair as the genuine Aldershaw tile, its rich colours, subtle variations in texture create a patina that is usually only associated with the timeless elegance of a by-gone age.
Aldershaw - Protecting England's Architectural Heritage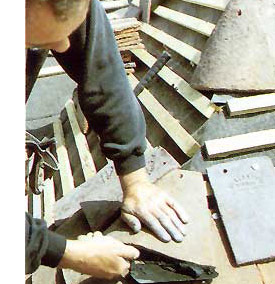 As with all 'Truly hand made' products each tile is a unique work of art, reflecting the individual craftsmanship of its maker.
Brick and tile are arguably the most important building materials and certainly the most visible components of the built environment in our villages, towns and cities.
The rationality of architectural design in Britain owes much to its geography and geology, building materials due to their weight were not transported for until the last few decades, which explains the wide range of colours available in different regions and due in the most part to the local geology of the materials used.
Compare if you will the orange and soft reds of the southeast with the blues and browns of Staffordshire, the Buffs of Cambridgeshire and Ely, the Limestone of the Pennines, the Slate of Wales & Cambria and the Granite of Scotland.
We produce products to blend in with most regions but in particular the Greater Southeast and Cambridge Ely and the Cotswold.