Welcome to Aldershaw Handmade Tiles Ltd

Aldershaw specialise in 'Truly Hand made tiles', for the roof, the wall and Terracotta tiles for the floor.
We have been in existence for many years now, situated in 33 acres of ancient woodland in the heart of the Sussex countryside.
For the majority of our products we use Wadhurst clay from our own clay pit here on site, from which we generate six different colour to match practically anything in the region and provide our customers with a palette from which to create the effect that they require.

Each tile is unique and bears the characteristics of the craftsman or woman who made it.
Whilst Aldershaw are not major brickmakers we do manufacture specials, either standard or purpose made and a limited production of Imperial size and 2" bricks together with specialised brick mullion windows air bricks and a host of other products.
Of the many restoration products, mathematical tiles are a significant proportion, these tiles are made in all colours either sanded rubbed or glazed in a range of sizes and profiles. Mathematical tiles have been part of Britain's architectural heritage since the early 1700's. They were probably first introduced to update and make weathertight old timber framed buildings and there are many buildings with tile facades still in existence.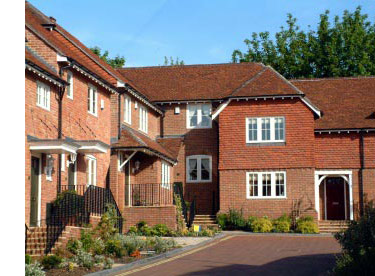 Another major product is our exclusive 'Sussex Terracotta' floor tiles with a range of sizes shapes and colours second to none no project is too small or too large.
In addition to our mainstream products we now have a growing range of glazed handmade wall tiles, items of architectural terracotta and garden terracotta some of which can be bought online.
Here at Aldershaw we care about protecting our Architectural Heritage as much as we do the environment, which is a duty that we take very seriously.
We have a comprehensive programme of waste minimalisation, heat efficiency, heat recovery, CHP, recycling of all waste, recovery and use of surface water for process and other non potable uses.
Our Location - Click here for a Google Map
Useful Links - please click here
Terms and Conditions
Prior to placing an order please ensure you read our terms and conditions of sale - click here to download (PDF).